You want
that certain
extra?
You want that certain extra? Extra quality? Extra class? Extra refinement? In other words, an extra share of unique and extraordinary design? Then Sinnex is the right place for you. We fulfil your dreams of luxury at the highest level possible. We strive for excellence where others settle for just-good-enough. For us, the sky is the limit. We locate the ideal material, the most exclusive cut and the perfect solution. Custom-made, efficient, flexible, reliable – that is what we stand for.
ATTENTION TO DETAIL, IN EVERY INCH
Luxury interior design is more than just a craft. For us it is a passion for material, an attention to detail and a focus on ensuring that every finish delivers the finest touch. This is why we rely on the latest production techniques with highly automated facilities. By enrolling our staff in continuous training programmes we guarantee that your luxury interior design is state of the art. Our own production facility in Griffen is a place where cutting-edge technology meets successful tradition. The result? Remarkable interior designs that are attracting praise around the world.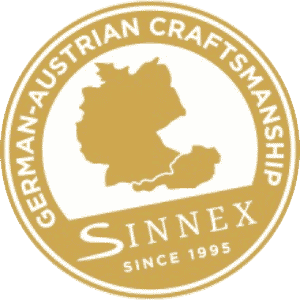 We at Sinnex can draw on an extensive network of specialists. No matter how extraordinary or impossible the task may seem – our network makes sure that your ideas are perfectly translated into an exceptional solution. Each of our specialists has been meticulously selected on the basis of Sinnex's strict quality code. This ensures that we can offer a superior degree of flexibility, and reduces the need to divide up the tasks within the company itself.